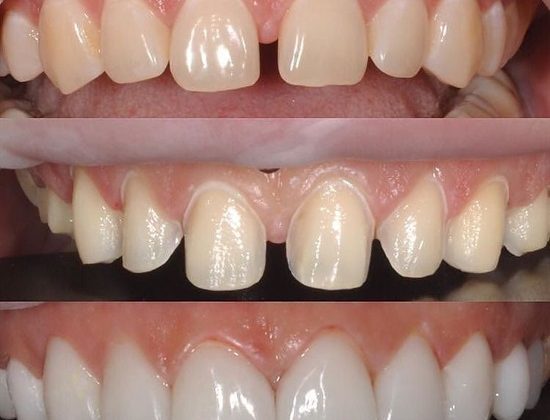 Widely considered one of the most popular and visually pleasing forms of cosmetic dentistry, Porcelain Veneers can create a great smile. These thin shells of dental ceramic bond to our teeth, giving you a new look that you'll love.
The team at Front Royal has used porcelain dental veneers to change smiles for hundred of clients. You can lean more by calling us today at (number).
What Problems can Veneers solve?
 Porcelain Dental Veneers can solve a series of minor problems, these include:
Small gaps
Chips and cracks
Discoloration
Minor crookedness
Uneven shapes
If you're experiencing any of these issues, you may be a good candidate for porcelain veneers.
Before committing to a procedure, our team will examine your teeth very closely where we'll take a look at coloring, size, shape and alignment. From there we will explain the veneers process, how they work, etc. We can also show you some before and after pictures.
How Porcelain Veneers are done
 Once you have decided that porcelain veneers are the best option for you, you'll need just two more visits to create your new smile.
First Visit
Your teeth will be prepared, lightly buffed to remove enamel and make space for the veneers.
The doctor will take an impression of your teeth using special putt. From there, the putty will be sent to a laboratory, where it will be used as a model for your new veneers.
The lab will craft your custom veneers in just two weeks. During this waiting period, you may or may not be wearing temporary veneers.
Second Visit
Finally, your custom veneers have arrived. The doctor will examine them to make sure they are perfect. From there, they will be temporary placed on to ensure a good fit; some adjustments may be necessary. You will probably need no anesthetic for this.
Once you and the doctor are happy with the shape and fit of your new veneers, they will be permanently bonded to your teeth. All it takes is a few seconds from a curing light and you have a new tooth!
Maintenance
Porcelain veneers need to be treated as regular teeth as far as maintenance goes. Porcelain is resistant to stain and durable.
Want to arrange a personal consultation with our cosmetic dentist? Give us a call at (number). Our highly-trained team will answer any questions you may have.